Residential Food Scraps Collection:Resources & Tips
Athens Services is partnering with your city to implement food scrap collection for single-family home residents and multifamily complexes. Per Senate Bill 1383, single-family home residents and multifamily complexes across California will be required to place into their green waste container ALL of their landscaping waste, food scraps, and food-soiled paper (100% fiber-based).
WHAT'S CHANGING?
You will be able to use your green organics container for the collection of landscaping waste, food scraps, and 100% fiber-based, food-soiled paper.
DID YOU SAY FOOD SCRAPS?
Yes, Athens will accept all types of food scraps. Our American Organics compost facility converts organics waste into nutrient-rich soil amendment. The resulting compost is used by commercial farmers, city projects, garden shops, landscapers, and residents.
HOW DO I PARTICIPATE?
To collect your kitchen food scraps, you can choose to use a portable, reusable pail-like container with a tight-fitting lid. It could be plastic, metal, or ceramic.
Consider reusing a coffee canister, large yogurt or margarine tub, or juice pitcher.
Pail options can be purchased at a retail store or searched online for "Kitchen Pail."
Storage ideas can include the kitchen counter, under the sink, in the freezer, or wherever you feel is best.
WHY ORGANICS RECYCLING?
Landfills are the third largest source of methane in California. Organics waste emits 20% of the state's methane; a climate super pollutant up to 84 times more potent than carbon dioxide. By diverting organics from the landfill, you are part of the solution in helping to protect the environment and future generations.
ARE BAGS ACCEPTED?
Liners are optional. Plastic and bioplastic "compostable" bags are accepted in the organics container, but must be CLEAR or translucent-green, and bag contents must be visible. Acceptable organics will be processed, but the bags will not be recycled or composted.
WHERE CAN I GET MORE INFORMATION?
Athens is here to support the community with this new program and will provide resources and training to help you get started.
If you have any questions about the new organics collection program, please contact the Athens Customer Care Center at (888) 336-6100 or visit AthensServices.com/SB-1383.
For more information on SB 1383, also check out CalRecycle.ca.gov/Organics/SLCP.
PARTICIPATING IS EASY AS 1-2-3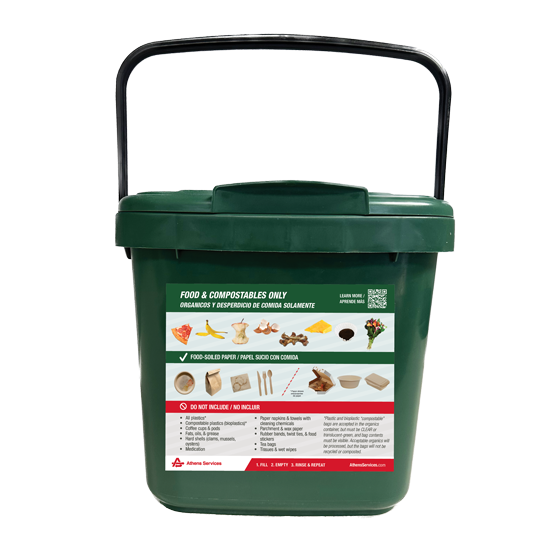 1. FILL
Fill your pail with food scraps and acceptable items. (Liners are optional. Consider newspaper or a paper bag. Plastic bags must be clear.)
2. EMPTY
Empty pail contents into your green organics container.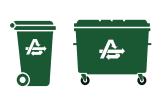 3. RINSE & REPEAT
Rinse out the pail with soap and water. Fill again. Sprinkle lightly with baking soda to absorb odors.
Athens Tip: Store meat and dairy scraps in a container in your freezer and place them in the green organics container on collection day.
ACCEPTABLE ORGANICS WASTE
• Flower & hedge trimmings
• Grass clippings
• Leaves & branches
• Lumber, scrap wood, & plywood (not painted or treated)
• Weeds
• Bread, rice, & pasta
• Cheese & dairy
• Coffee grounds & filters
• Fruits & vegetables
• Flowers & herbs
• Meat, bones, & poultry
• Seafood & soft shells (lobster, crab, & shrimp)
• Pet food (non-medicated)
• Food-stained paper
• Paper egg cartons
• Paper napkins & kitchen towels
• Pizza boxes
• Plates
• To-go boxes (no coating)
• Wooden & fiber-based utensils
* Must be 100% fiber-based. NO materials with bio-plastic, wax, or petroleum-based plastic coating, liner, or laminate.

• All plastics
• Cacti, succulents, & yucca
• Compostable plastics (bioplastics)
• Coffee cups & pods
• Fats, oils, & grease
• Food stickers (please remove)
• Gloves
• Hard shells (clams, mussels, oysters)
• Medication
• Palm fronds
• Paper napkins & towels with cleaning chemicals
• Parchment & wax paper
• Pet waste
• Rocks & soil
• Rubber bands & twist ties
• Tea bags
• Textiles
• Tissues & wet wipes
WHY IS ATHENS LOOKING INSIDE MY CONTAINERS
As part of Senate Bill (SB) 1383 compliance requirements, residents may find Athens' "Lid Flippers" surveying their neighborhood. These custom right-hand-drive Jeeps are tasked with assessing a customer's recycling, organics, and trash containers for contamination.
Drivers manually open each container to inspect the contents. If contamination is found (such as trash in the organics container), the auditor photographs, reports, and places a "Customer Notification Tag" on the container to notify the household of the issue and any required action.
For proper waste sorting tips and best practices, visit CanIRecycleMy.com.
ATHENS' TIPS FOR A CLEAN KITCHEN PAIL
Here are our recommendations for keeping your pail clean and in tip-top shape.
Avoid overstuffing the pail.

Empty the pail contents every few days.

Rinse with soap and warm water each time it's emptied, then let air dry.

Instead of plastic liners, use old newspapers or brown paper bags to line the sides and bottom of the pail.

Avoid strong odors by freezing spoiled and smelly food (e.g. meat, bones, and dairy) and only add it to your pail right before emptying into the outside container.

Sprinkle the bottom of the pail lightly with baking soda to absorb odors.

Keep the lid closed to prevent fruit flies.

Spray castile soap on the food scraps to deter ants.
Remember, participating is easy as 1-2-3! Fill, Empty, Rinse & Repeat!