Residential Waste Collection
Your Partner to Achieving a Zero Waste Future
Athens Services is a local, family-owned waste collection and recycling company that has been a fixture in the greater Los Angeles community for the past 60 years. We provide innovative, consistent and quality environmental services to our more than 250,000 customers in the 50+ communities we serve. Through reuse, recycling and composting, Athens diverts valuable resources from landfills.
View Altadena/Kinneloa Mesa's
To ensure your trash is collected, please make sure your barrels are out the night before trash day or by 6:00 A.M. the day of service.
Information, standards, and special instructions!
Holidays create a one-day delay in collection service. Athens Services observes the following holidays:
If a holiday falls on a Saturday or Sunday, waste collection services will not be delayed.
WHAT GOES IN MY CONTAINER?
The RECYCLING container is for the collection of commingled recyclables such as aluminum/tin foil and trays (clean); aseptic containers, juice boxes and milk cartons; cans (aluminum, bi-metal, and tin); cardboard; envelopes;  glass bottles and jars; junk mail; magazines; all metal; newspaper; office paper; paperback books; paper grocery bags; all clean plastic bags and film plastic (grocery, dry cleaning, packaging, etc.); plastic containers (1-7); shredded paper (bagged); and wrapping paper (with no metal). NO FOOD WASTE, LIQUIDS, ORGANICS, PACKAGING PEANUTS, PET WASTE, TRASH, OR YARD TRIMMINGS.
The LANDFILL container is for non-recyclable trash such as bathroom waste, candy bar wrappers, ceramics/porcelain, chip bags, cigarette butts, diapers, disposable gloves, foam to-go containers and cups, food scraps, juice pouches, packaging peanuts, palm fronds, paper or boxes soiled with grease or food residue, pet waste, succulents and cacti, yucca leaves and other solid waste materials considered to be no longer of use.
The ORGANICS container is for collection of green waste only including plant matter, tree trimmings, and yard trimmings. NO BUILDING MATERIALS; CACTI, SUCCULENTS, or YUCCA; CONCRETE; DIRT; FOOD SCRAPS; PALM FRONDS; PET WASTE; SAND; STONES; TRASH; OR TREE TRIMMINGS (LARGER THAN 4 INCHES IN DIAMETER OR 4 FEET IN LENGTH).
State law prohibits the disposal of hazardous material into your containers.  For proper disposal options, click here. We also ask that you do not place bulky items, construction debris, electronic waste, or automotive parts in your containers. For bulky items disposal options, click here.
The following is a list of items you should not place in your container:
Electronics can include those devices that utilize electrical wiring, plug into  an electric outlet, or take a battery or light bulb. Examples include (but are not limited to): computers and accessories, circuit boards, extension cords, flashlights, microwaves, phones, stereos, and televisions.
Waste material generated during the construction, renovation, or demolition of a location cannot be placed in a standard cart or bin. Examples of C&D materials include, but are not limited to, asphalt, bricks, carpet, concrete, dirt, doors, drywall, earth, glass, construction, and cabinet lumber, masonry materials, pallets, pipes, plastics, plumbing fixtures, rocks, salvaged building components, scrap metal, roof shingles, tile, and windows.
It is illegal to dispose of hazardous materials into your containers, down the drain, or by abandonment.
Hazardous Waste is any product labeled toxic, poisonous, corrosive, flammable, combustible, or an irritant.
Examples include (but are not limited to): antifreeze; automotive fluids; cleaning products; compressed gas cylinders (full or empty); fertilizers, herbicides, and pesticides; paint; pharmaceuticals; pool chemicals; sharps waste; solvents; and more.
County of Los Angeles, S.A.F.E. Collection Center takes small business quantities by appointment only by calling (213) 485-2260. For collection of larger quantities of hazardous waste, please click here to contact Athens Services for an estimate.
Electronic Waste (E-Waste) includes those devices that plug into an electrical outlet, utilize light bulbs or batteries, and/or contain electronic circuit boards or wiring. Examples include (but are not limited to): computers, circuit boards, electronic accessories, extension cords, flashlights, gaming consoles, microwaves, phones, stereos and televisions.
Residents can request a bulky item pickup to collect unwanted electronic waste.
Athens Services, in partnership with the County of LA, hosts two e-waste collection events per year for Altadena/Kinneloa Mesa residents. More information will be included in residential billing statements or via email for those participating in online bill pay.
Athens Services encourages the reuse and donation of bulky items whenever possible.
If this is not an option, Athens will, upon request only, remove bulky items, including major appliances and furniture. Please do not place bulky items or electronics in your trash containers. Doing so may cause an interruption in your service.
To schedule a pickup, please submit a Bulky Item Request.
We do not accept the following items:
Automobile parts
Construction and demolition debris including, but not limited to: dirt, concrete, tile, drywall and rock, etc. Click here to learn how to dispose.
Hazardous waste (including antifreeze; automotive fluids; cleaning products; compressed gas cylinders (full or empty); fertilizers, herbicides, and pesticides; paint; pharmaceuticals; pool chemicals; solvents; and more.) Click here to learn how to dispose.
Loose or scattered building material and lumber
Holiday trees are 100% recyclable! Athens Services collects holiday trees each year, from the day after Christmas through the second week of January, on your normal pickup day. Trees are delivered to various landfills to be used as mulch or cover material, or to Athens' American Organics compost facility in Victorville.
Tips to ensure your tree is properly collected:
Remove stands, ornaments, lights and tinsel.
Place holiday trees next to your regular trash containers.
Trees over 6 feet in length must be cut in half.
Trees with flocking or fire retardants ARE NOT acceptable.
If you miss the date for recycling, please cut up your tree and place it in your yard waste container(s).
Please help keep our parks clean and safe during the holidays. If you see anyone illegally dumping holiday trees, please call your city's Police Department.
Senior Discount Application
Altadena and Kinneloa Mesa Fall 2021 Newsletter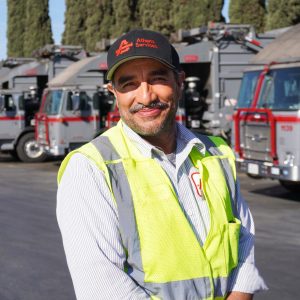 Julio Salazar has been part of the Athens family for nearly 20 years. He started his career as a Scout Driver in South Pasadena and has since worked his way up to a Roll-Off Driver servicing the City of Monterey Park.
Read More
Please provide us with your inquiry or comments by using the simple email form below or call during our Hours of Service.
7:00 AM – 5:00 PM MONDAY-FRIDAY
7:00 AM – 12:00 PM NOON SATURDAY